This morning, I finally sat down to try to catch up with all the bloggers out there. Linda at
Living for Quilting
posted about the Kind-hearted blogger pledge.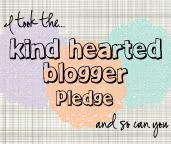 It seems that some out there feel free to express negativity through blogs and blog comments, and can be hurtful, so Joannie at
Emi Jay and Me
decided to try to put a positive spin on some of her negative blogging experiences.
I took the pledge - badge on my side bar - I challenge all of you out there to join in trying to make this a kinder blog-world, and a happier experience for everybody.
Blessings, Peg