Sadly, I've been rather neglectful of my blogger friends and blog.  Well, not totally neglectful, reading but not writing, not even writing many comments.  Which of course means I've not been receiving many comments or replies either.
A few days ago, I read of a blogger who was ready to give up blogging because she had few followers, and received no comments.  Her lament did not go unnoticed – and suddenly she had more followers and comments than she could handle.  But all of that got me to thinking.
Why do I blog?  What do I expect from blogging?  What is the purpose (read MY purpose) in blogging?
I guess I just needed a break.  I had been feeling a bit bogged down by it all – so many bloggers out there, so many blogs to read, so many bloggers with whom to connect, so many comments to make, so many deadlines to meet (swaps, and groups and quilt-alongs)….. 
And the reality, my follower list grows slowly (which is okay, I can't keep up with all of them anyway), and only a few actually comment and/or reply to my comments.
I thought of quitting.  But a conversation with Grizz, who encouraged me saying he enjoys my blog posts, and he knows there are a few others out there who appreciate the connectedness, stopped me.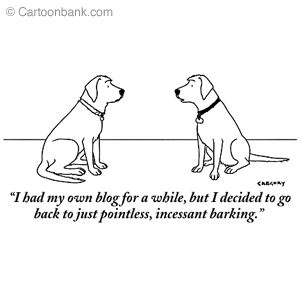 Okay, then, how to proceed?  Well after some thought, and another conversation with an 'unofficial' follower (thanks sis-in-law), I've come to a decision.
No more swaps, no more groups, no more quilt-alongs, no more blog hops, no more give-aways (either entering or sponsoring).  Just enjoy the relationship with those who are connected, and don't worry about the others.  Just enjoy sharing what's meaningful to me, without deadlines and boundaries and pressure. 
This has meant weeding out the blogs that I've been following (which BTW really freed up a lot of time previously spent reading blogs and commenting). 
This also means that I'm only commenting when I have something meaningful to say, so if you're not hearing from me, it's not because I'm not still here – I am still reading your blogs, just not saying anything if I don't actually have something to say.
Having said all that – I will now go on to post about the last little while in my life, and what I've been doing.  Stay tuned – coming right up!
Happy blogging all!              Blessings, Peg