I was looking back at some posts, and was reminded that some time ago I started a weekly post I called Wednesday's Words – a place for me to share thoughts, tips, teasers, whatever. Not sure why that got dropped. But lately I've been seeing Wednesday's Hodgepodge, and enjoyed reading the answers to the questions (and have actually participated a time or two), so though I'd resurrect Wednesday's Words, and answer the Hodgepodge questions, using the 'random' portion to share some of my own words.
So, first up – here's this week's Hodgepodge questions and answers:
1. What are your plans for Easter? Are you cooking a big lunch or dinner? Dyeing eggs? Attending a sun rise service? Eating too much chocolate?
Easter weekend here will be Family Time. DS1 and DDIL2 are arriving Thursday evening, Friday evening DS2 and DDIL1 will be joining us for seafood chowder dinner cooked by DDIL2, Saturday my parents will arrive, and Sunday everybody including Grizz's family and DDIL2's family will be here for dinner. It will be a full weekend!
2. What is something you feel too young to do?
Never too young – isn't that what they way, or is it Never too old – whichever I hope I'm always able to do the things that I want to do.
3. "Love is patient, love is kind. It does not envy, it does not boast, it is not proud...it is not self-seeking, it is not easily angered, it keeps no record of wrongs..."
Of the characteristics mentioned in the biblical definition of love which do you find most difficult to live out and why?
I have to confess that I struggle with not being self-seeking, sigh…..
4. What's a springtime flower you associate with your childhood?
Crocus – we always knew spring was really coming when the crocus poked up through the snow!
5. Ever sung karaoke? If so, what's your go-to song? If not and you're given the opportunity, would you?
No, not something I've ever been brave enough to try

6. What is something you keep in a basket?
I have a number of baskets – one for some quilting notions, one for magazines, one for kitchen towels, one to tuck away Christmas gifts I may buy through the year…..
7. When was the last time you felt foolish?
This wasn't the last time, but it seems to be a recurring theme in my life. I was at work (so you know that was a while ago), and couldn't find my glasses. I checked on top of my head, in my pockets, underneath pieces of paper, in drawers, behind and under and in anywhere and everywhere I could think of. I even wandered down to the staff room to see if by chance I'd left them there. Nowhere to be found. Finally I asked a co-worker if she'd seen them anywhere………..they were hanging around my neck from the new cord I'd just bought so that I wouldn't lose my glasses!
8. Insert your own random thought here. Lately I've been gathering up a bunch of quilting tips, from Quilting Connections on FB, and from Love of Quilting (Fons and Porter) on the TV. I've really enjoyed gathering these up, and as I get around to trying them out, I'll share them with you all. But for today I want to tell you how I managed to do a quick-change hanger for a quilt, when I wanted it up sooner rather than later, and wanted the ability to change it around. I placed two picture hooks on the wall, a little below where I wanted the top edge of the quilt, and just inside the outer measurements of the quilt. I then placed large safety pins at the top corners of the quilt, and hung it.
This quilt was originally planned as a table mat, so no sleeve, it's only about 24x24, and I can use the hangers to change out similar size quilts to change the display a bit. A slightly larger quilt would require an extra pin or two across the top to keep it from sagging too much, but this works for me! But this really wouldn't work for a large size wall-hanging like this one:
This is nearly 7 feet long and 5 feet wide, so it was made with a sleeve and is hung on a dowel. Just sayin'
As said above Easter is coming, and with it family gatherings. Wishing you all a blessed Easter weekend, and God's blessings on your celebrations and the year ahead.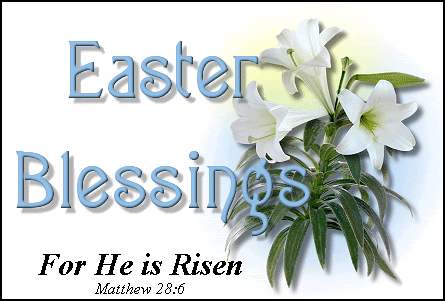 Blessings, Peg