stitches. That's what it took to finish up my latest cross-stitch.
Several years ago, we visited a local artist to purchase a print that we'd been wanting. Marion Rose Keay was known for her folk-art paintings of local sites and tourism venues. At the time we already had 'The Apple Farm'
and 'Greendale'
hanging on our walls.
What we liked best about her paintings was the fact that they reflected the places where we 'lived', right here, at home.
At that visit we added 'The Yellow Barn'
to our collection.
But, to our dismay, Marion had changed her style of painting to a much more contemporary, almost impressionist style. Not that her paintings weren't lovely, just not the style that we like to hang on our walls. Besides that, her folk-art were of places near and dear to our hearts. Then we learned that she had no prints of any other of her folk-art, but she showed us some photos, and then, to our delight GAVE us two photos, with full permission to reproduce them in whatever form we'd like.
This one
is of Bridal Falls, a tourist stop near to us, with Mount Cheam in the background (we can see Mt. Cheam out our back windows most days – just not when it's cloudy and rainy). My plan is to someday make a quilt, using this picture for the pattern.
The other is this photo
Kilby Farm, a heritage site not too far down the road. Using PC stitch, I created a cross-stitch pattern:
The pattern was printed out on 9 sheets of paper (so I could actually read it), required 100 floss colors, and as I said earlier 101,528 stitches.
I started in January of 2007, and worked on this project periodically, inserting other more 'urgent' projects in between over these past years. Total months of working on it – 31. Hours, well those are just too many to count, but they were spent in this chair:
And the end result:
It needs pressing, but first I want to do some outlining, and I think I'll take this along on our next trip to keep my hands busy (and not stuffing food in my mouth) when we have some evening relaxing time.
Over the years, the pattern took a beating:
And I actually had to reprint the last page because some of the squares were just too worn from the constant handling.
So just a few more hours and it'll be ready for framing. But now what am I going to do with myself in front of the TV????
Another note, in checking yet once again to see how Marion Rose Keay's career is developing, I discovered that, in fact, she passed away in November of 2011, a sad loss to the world of art. Here's a photo from the cover page of a
web-site
where her prints can be purchased (I assume they're still available, but can't find any definitive dates):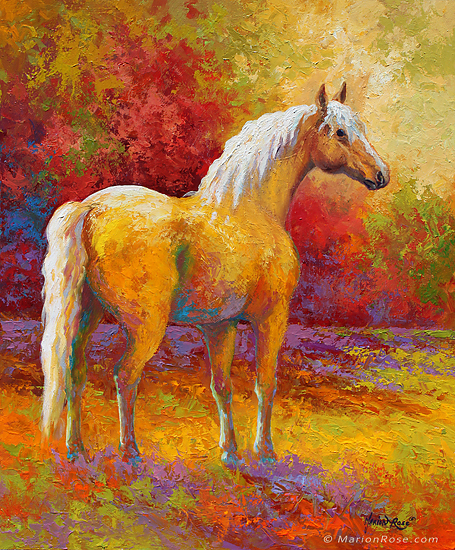 A loss to the world of art, but her talent and spirit will remain in this world through her paintings.
Happy stitching! Blessings, Peg