for giving and sharing.
Yesterday we went to see the Canadian Pacific Holiday Train, and enjoy the entertainment.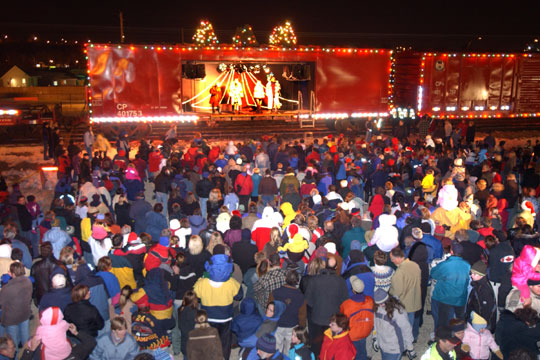 (not my pics, sorry, forgot to take my camera)
But the Holiday Train is not just about entertaining – this 16-year-old tradition is a way to raise funds and gather food items for local food banks all across our country.
The train starts in Montreal and lands in Vancouver, stopping several times a day at communities across the country, where the local Community Services volunteers then set up collection points. Of approximately 2500 residents in our little community, at least 500 of them gathered together yesterday to hear Jim Cuddy and Tracey Brown, and give for those less fortunate.
We were told that each dollar cash donation relates to five dollars worth of food – and CP Rail gave our town $7000.00. With that plus the donations from last night plus the collections of our local firefighters last week and what ever else they collect, the coffers are full and should be full for a little while at least.
Other communities have different food drives at this time of year, like Cram the Cruiser – where local RCMP set up their vehicles at a collection point and folks can drop off their donations. My little niece in Houston BC got behind this one and collected earnings from her craft sales to buy food to donate
Yes, food is needed year-round, but in the spirit of giving, now is a good time to remember to share our wealth, so that those in need will have enough.
Happy giving! Blessings, Peg